Ed Boon is a video game programmer. He is most known for creating the fighting game series Mortal Kombat and is the head developer of Injustice: Gods Among Us and Injustice 2  for NetherRealm Studios.
Biography
Boon graduated high school from Loyola Academy in Wilmette, Illinois. He later graduated from the University of Illinois at Urbana-Champaign with a Bachelor of Science degree in mathematics and computer science. And he is best known as a co-creator of the Mortal Kombat fighting game series, along with John Tobias. He was ranked #100 in IGN's "Top 100 Game Creators" especially noting his involvement in the Mortal Kombat series. In the 1990s, Boon was generally credited as the lead programmer while Tobias was lead designer. Boon continues to work on the ongoing media franchise, including games, movies and shows. He has also provided voice acting and motion capture for the games.
Triva
Boon is best known for providing Scorpion's infamous spear taunts ("COME HERE!" and "GET OVER HERE!") in his film and gaming appearances.

In addition to Scorpion, Boon also did the voice of the "Gotcha!" grab for Jackson "Jax" Briggs since Mortal Kombat II.
Scorpion is also Ed Boon's favorite Mortal Kombat character.

Along with John Tobias, Boon is part of the namesake of the character, Noob Saibot. Better known as the first Sub-Zero, Bi-Han.

To coincide with the joke, his Twitter account is his name spelt backwards as "noobde".
Boon himself would voice Noob Saibot in 2004's Mortal Kombat Deception.

The Mortal Kombat characters, Sonya Blade & Tanya were named after Boon's sisters.
Prior to the formation of NetherRealm Studios, Ed Boon worked at NetherRealm's predecessor, Midway Games for a period of twenty-two years. Also prior joining Midway and creating Mortal Kombat, Boon worked at William Electronics designing Pinball Machines.
He holds the distinction of for the Longest Serving Video Game Voice Actor of the Guinness Book of World Records in June 2010 for voicing Scorpion in a span of seventeen years and eight months.
External Links
Interview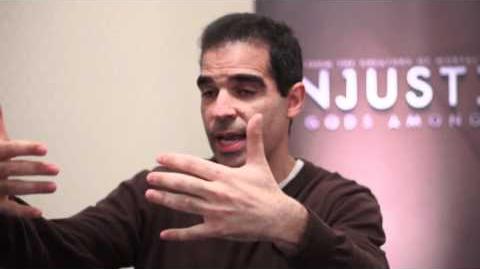 Community content is available under
CC-BY-SA
unless otherwise noted.