The
Clash, also known as a Wager,
is a mechanic in Injustice and Injustice 2.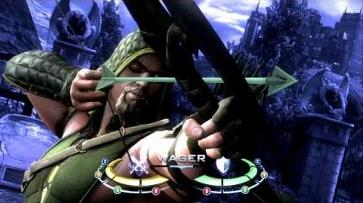 Procedure
During a match, a player who has lost their first health bar can initiate a clash while trapped in an enemy combo, by pressing forward and the meter burn button. After successfully doing so, both characters will fly apart from each other, each give a line of dialogue, before simultaneously charging towards and attempting to attack each other.
During a clash, players wager portions of their Super Meter in secret. If the player who initiates the clash wagers more Meter than the opponent, they will knock them back and gain health proportional to the amount of Meter they won the clash by. If they wager less than the opponent, then they will be knocked back and receive damage instead. Clashes cannot reduce health to zero.
Characters have unique dialogue when clashing. Some of what they say will go to any character, while others are meant for specifics characters only. On a similar note, certain quotes can be said to characters of a certain group (heroes, villains, young characters).
Examples
Superman
The following quotes would go with any character:
"This is for your own good!"
"This ends now!"
"I admire your bravery."
These quotes go with specific characters:
"You're overmatched!" said to Batman
"Speed isn't enough!" said to the Flash
"Pride is a deadly sin." said to the Regime Superman
Batman
The following quotes go with any character:
"You're afraid."
"You're mine!"
"This is my turf."
These go with certain characters:
"Back to Arkham!" said to the Joker
"Don't make me angry." said to Nightwing
"If it's a fight you want..." said to Superman
Lex Luthor
To any character:
"This will enlighten you."
"You asked for this."
"Ignorant fool!"
Specific characters:
"Mind over muscle!" said to Superman
"You haven't even begun to know..." said to Wonder Woman
"Your jokes are stale." said to the Joker
The Joker
To any character:
"May I have this dance?"
"Let's turn that frown upside down!"
"You're gonna love this!"
Certain characters:
"Smile!" said to Batman
"Shame we never hooked up." said to Catwoman
"You always hurt the ones you love." said to Harley Quinn
Trivia
The first person to talk is the one who interrupted the combo.
So as to distinguish the mainstream heroes from their counterparts, the quotes the counterparts say tend to reflect the personalities they have in their universe. 
Gallery